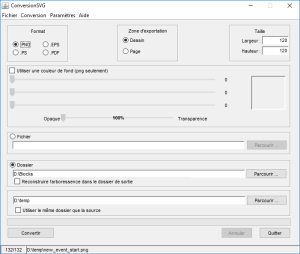 The easiest way to convert a bunch of svg images into png: ConversionSVG + InkScape
Click to Read MoreClick to Close
It's very straightforward and the quality is much better than various online tools
Install first InkScape and next ConversionSVG.
Run ConversionSVG,
Select the output "Format"  = .PNG,
Select the "Exportation Zone" = Dessin
Set the desired "Size" for the output images.
Select the "Folder" containing the svg images to be converted
Select bellow the target folder to store the converted images.
Click "Convert"
Et voilà ;)