Trying to backup an image of my PC with Acronis True Image 2016 on my Synology, I got an error message like "Acronis cannot access backup file [due] to credentials [when accessing the] network share".
I couldn't find the way to change those credentials... But finally found a trick (?) to be prompted!
Click to Read MoreClick to Close
Concretely,
after adding a new backup, I clicked "Select Destination" and used the 'Browse...' option to "Set a custom location for the backup".
Next, I picked "My NAS connections" where my Synology was already listed (configured more than 2 years ago) and there, browsed to a sub-folder on the "home" share.
Unfortunately, clicking on "Back up Now" resulted, after longs minutes, into an error message complaining about the credentials.
Probably because Acronis is using the Windows Credential Manager, I couldn't find how to change the credentials within Acronis.
But changing again the destination and typing manually the path "\\<MyNAs>\\home\Acronis\<PC Name>" instead for Browsing for that folder, I was prompted for a login/password.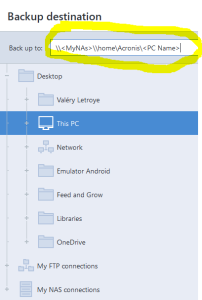 Et voilà...