I am pissed off by my current HTPC Acer iDEA 510... Too many issues with the video drivers, too slow for some heavy HD movies where many dots moves at the same times... I need a new one !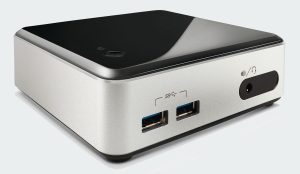 Click to Read MoreClick to Close
After some research, the easiest solution will be to buy a barebone matching my requirements:
One HDMI 1.4 connector with audio support

Once HD Audio Controller
One placeholder for a SSD
One Gigabit Ethernet controller
One IR receiver for a Windows MCE remote.
An Intel above or equal to Core i3-3225
Low power consumption (<~5w when idle)
Low noise level (~30db when idle, ~40db at full load)
A barebone solution will be a bit easier than buying each parts separated (case, Motherboard, CPU, PSU, ...).
The barbone being closest to my requirements is the Intel NUC D54250WYK. Its processor is however a core i5-4250U which is unfortunately not as powerful as a core i3-3225 (See here). But with its GPU HD Graphic 5000, it seems to be from far good enough to play HD movies based on technical reviews.
It has two SO-DIMM slots supporting up to 16 GB of 1600/1333 MHz 1.35V DDR3L memory. So, I will take 2 x 8Gb Corsair Vengeance CMSX16GX3M2B1600C9 DDR3L 1600 MHz CL9 (PC3-12800).
I will also add/use:
This barbone also has:
two USB 3.0 connectors on the front panel and two USB 3.0 connectors on the back panel.
two USB 2.0 ports and one SATA port inside but there are IMO useless as there is no place at all in that small case.
a consumer infrared sensor on the front panel
a 8-channel (7.1) digital audio via its HDMI 1.4a output or via its DisplayPort 1.2 connector.
At full load, it seems it will be a bit louder than I was expecting from my future HTPC (reported to produce ~44db), because it's not a passive cooling. But it's still really ok. And from the power point of view, it consumes less than 5 Watts when idle. Perfect !
EDIT 31/01/2014  I got it and... IT ROCKS !!!
Much more fast and silent than expected!