I already have a drone for fun, but would really love a new one following me and recording video when biking or skying with kids...
I did a quick tour comparing brands and model and concludes that right now, the best one (compromise price/quality/feature) would be the DJI Spark.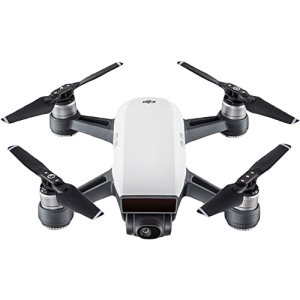 Click to Read More
I have been considering:
Quality of image (better than Parrot Bebop 2) - full HD, 12MB, stabilized on 2 axis (but no big deal with this limitation)
Duration of the flight (15')
Range of the flight (100 m or 2000m with the optional remote, at 13 m/s)
Obstacle Avoidance (forward facing and bottom facing sensors only)
Flight modes: Circle or Helix around the subject, auto landing and takeoff (from the palm), follow-me (tracking), Selfie, Tapfly (goes to the location indicated with your finger on the screen),
Easy to use for novice. has an optional remote, can connect with a Android phone, can be controlled with gesture.
Handle the wind very well.
See review here.
Other options that I could be considering are:
In my dreams only, a DJI Mavic Pro, decribed here. Just a question of price, as it's making fun a bit too expensive...
Maybe, because it comes with a FPV headset, a Parrot Bebop 2 Power, described here. But it's less compact and portable than the DJI Spark and the quality of images is also lower. On the opposite, the flight can last for 30' !
Possibly, a Yuneec Typhoon H, introduced here. It is more a pro device, more expensive, but very exiting :p Would be a better choice IMO than the DJI phantom from a quality/price perspective.
Edit 04/2018 I did chose for the Dji Spark with a Fly More combo.
Edit 08/2019 I did crash my drone at least 10 times since I am flying with it. Sometimes in trees, sometimes in walls. I never broke anything in the past. But after my last crash, the engine of the camera stopped to work. I did sent the devive to DJI and they fixed it for 50€ of workforece + 18€ for the engine. The best suport in the world, with excellent and clear communication!
Edit 10/2019 After one year and an half of practice with the Spark, I decided to upgrade to a Mavic. By chance, I have been able to aquire a Mavic 2 Pro with a "free SmartController".