I am planning to build a new home server (for File Storage and Virtual Machines) in a Norco Case RPC 4224 with 24 hot-swappable Sata/Sas III drive bays. It is intended to replace my current one (limited to 12 HDD).
To build this new server, my main PC - named Chaos - will be cut to pieces...
Click to Read MoreClick to Close
Indeed, instead of buying basic hardware for that new server, I have decided to reuse the motherboard/CPU/Ram of my current PC: an old Asus Striker II Formula with 6 Sata II controller. To control up to 24 HDD, I will reuse a Promise FastTrack TX4660 Sata/Sas II controller and buy a new LSI SAS 9201 with 16 Port Sata/Sas 6Gbs. (EDIT: I did remove the Promise and replaced that one with a LSI SAS 9211 with 8 Port Sata/Sas 6Gbs)
What's the rationale behind reusing the hardware of my PC for the Server ? Just the pleasure of buying new stuff to renovate Chaos... Stuff that would be overkill for a home server :)
I did shutdown Chaos on last Monday and started to remove all the parts needed to build the server. Chaos died... A few days later, it was fully up and running again, based on:
a new Asus P9X79 Pro MB

CPU: Intel Socket 2011 (for Core i7).
Chipset: Intel X79.
Front Side Bus: 1866/1600/1333/1066 MHz
RAM: 8 x DIMM DDR3 (max 64 GB) - Quad Channel Architecture.
Storage: 2 x Sata 6Gb/s ports Intel X79,  4 x Sata 3Gb/s ports Intel X79 with Raid 0/1/5/10, 2 x Sata 6Gb/s ports Marvel 88SE9128 with SSD caching, 2 x power eSata 6Gb/s ASMedia ASM1061.
Slots: 3 x PCIe 3.0 x16 (mode dual x16 or x16-x8-x8), 1 x PCIe 3.0 x16 (mode x8), 2 x PCIe 2.0 x1.
LAN: 1 x Gigabit LAN
Bluetooth
Audio: 8 channels HD (realtek ALC898).
USB: 6 x USB 3.0 ports (4 at back panel, 2 onboard), 12 x USB 2.0 (6 at back panel, 6 on MB).

a new CPU Intel Core i7-3820 10MB Cache (LGA2011) - Up to 3.8Ghz.
a new Liquid CPU Cooler Corsair H80 with 2 x 120mm fans.
4 new x 4GB Ram DDR3-2133 (PC3-17000) CL9Q (9-9-9-24 at 800MHz) G.Skill Ripjaws Z in Quad Channel mode (F3-17000CL9-4GBZH).
2 new x 120GB SSD Kingston HyperX Sata 6Gb/s (Read 555MB/s, Write 510MB/s) in a RAID 0 for the OS (Windows 8 Pro)
a new x 128GB Samsung 840 Pro Sata 6Gb/s (Read 390MB/s, Write 530MB/s) for the OS (Windows 8 Pro)
2 old x 1TB Samsung SpinPoint F1 HD103UJ (Seagate) Sata II 7200rpm 32MB cache (Read 94 MB/s, Write 79 MB/s)  in a RAID 1 for the data
4 old x 36.7GB Western Digital Raptor Sata I 10000 RPM (2 x WD360GD 8MB + 2 x WD360ADFB 16MB) in RAID 0 for a VM.
4 old x 500GB Seagate Barracuda ST3500630AS Sata II 7200 RPM in Raid 0 for VM.
2 old x nVidia GeForce 8800 GT Pci-e 16x  2.0
1 old x nVidia GeForce 8800 GT Pci-e 16x  2.0 connected to:
1 x new nVidia GeForce GTX 760 Pci-e 16x 3.0 connected to:

one Asus VG278HR 27" (aspect ratio 16:9) with embedded 3D IR emitter and 3D active glasses.

an old Asus U3S6 card adapter Pci-e 4x with

2 x Sata 6Gb/s
2 x USB 3.0
Hot Plug support

1 old x IDE CD/DVD burner Samsung Samsung Super-WriteMaster™ DVD Writer (SH-S202N/BEBN) with LightScribe.

connected to a sata port of the U3S6 via a Bi-directional adapter IDE <=> SATA syba SD-ADA50016

1 old x Tray-less single-bay (Mobile Rack) MB877SK-B of Icy-Dock

for 3.5" Sata 6Gb/s drives
also connected to as data port of the U3S6

1 old FlexCage Icy-Dock MB973SP-B Tray-Less 3×3.5″ in 2×5.25″ SATA HDD Cage.
everything is in my old silent Antec Tower Case "Performance One" P182.
Here above "old" only means "already used in the previous life" of Chaos...
I know that from Chaos came Gaia (the Earth) and Uranus (the Sky). But all my virtual machines have names of Titans and my physical machines have names of Olympians except my main PC which has always been named Chaos, from the very first one I built. So again: long life Chaos !
Some pictures: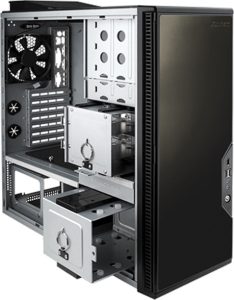 Case Antec P182